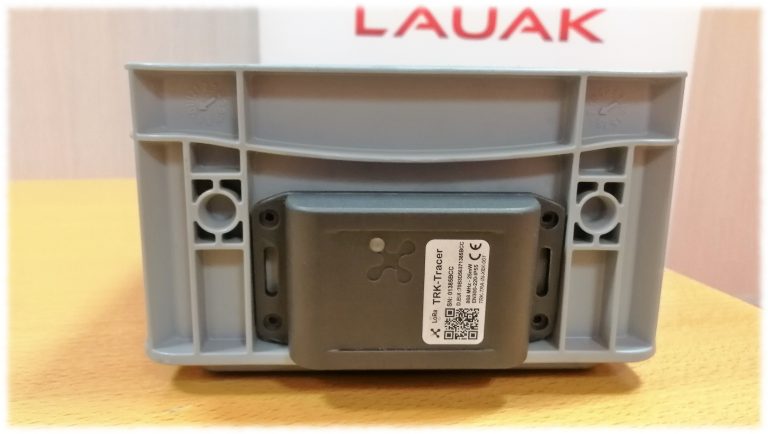 In the meantime with INEO-SENSE….
To optimize its production flow, the aircraft specialist LAUAK selects INEO-SENSE
The Internet of Things at the service of French industrial competitiveness an unprecedented contract at the heart of 4.0 industry issues.
Ineo-Sense will provide intelligent sensors to the Lauak industrial site of Hasparren (Pyrénées-Atlantiques) in order to reduce the delivery cycles, optimize production flow and give to the aircrafts company a better operating performance. These devices which communicate via the LoRa platform, include a disruptive innovation: the « Clover-Core ».
Ineo-Sense a company based in Nîmes (South of France) annonces the signature of a major contract with Lauak, one of the leaders in the manufacture of parts and structures for the aeronautics industry. Since 2010, Ineo-Sense conceives, develops and sells intelligent and autonomous sensors to industry companies allowing them to fully operate the Internet Of Things potential.
The contrat concerns the deployment of 14 000 intelligent sensors on the Hasparren site (Pyrénées-Atlantiques) which will help to maximize the production capacity of the subcontractor as well as its team efficiency in a strong growth context of its activity.
An expected reduction of more than 20% of its production lead time
In a global and highly competitive aerospace market, the Lauak Group has always been attentive to the technological opportunities that make it possible to optimize its manufacturing processes.
On the Hasparren site, more than 14,000 production orders are constantly in transit, requiring multiple parts transfers and time-consuming processing times.
In order to take advantage of the significant productivity gains associated to manufacturing processes, the Lauak Group has chosen Ineo-Sense to deploy a high-performance IoT network incorporating the Clover-Core technology.
After a phase of implementation of the long-range LoRa® low-power wireless platform ("Long Range"), the 14,000 Ineo-Sense smart sensors will be installed on the production boxes of the site's workshops, allowing operators to locate and identify in real time all outstanding production on each operating area. Full exploitation of this sensor network will be effective as of June 2019.
For the Lauak Group, the deployment of Ineo-Sense technologies will result in multiple benefits:
Optimization of manufacturing schedules according to the real availability of resources
Real-time alert on treatment priorities
Visual identification of boxes made instantly in order to be treated in priority thanks to a high brightness LED fitted to each sensor
Time saving in finding parts
Reduced waiting time between manufacturing steps
Thanks to these benefits, the Lauak Group plans to reduce its lead time by more than 20% and optimize its teams organization.
At the heart of the project, the Clover-Core disruptive technology
This unprecedented project in Europe is at the heart of the new challenges of the 4.0 Industry with the integration of an innovative technology into the IoT, the "Clover-Core", result of three years of research and development.
Designed by Ineo-Sense, this suite of embedded software bricks dedicated to industrial applications is integrated into each one of the autonomous sensors. The "Clover-Core" guarantees a high reactivity and an extreme reliability in the exchanges of data that are essential for the industrial environments.
These "Clover-Core" high performances operate while preserving low power consumption and long range communication, especially in indoor environments. This technology is ideally integrated into the LoRa® platform, a worldwide reference for IoT communication networks, which is in the midst of massive adoption worldwide.
Clover-Core technology offers advantages such as:
Price which is nothing regarding to alternative technologies: Bluetooth Low Energy (BLE), Ultra-wideband (UWB) …
Very high reactivity of bidirectional communications (less than two seconds)
Longevity of the sensors (more than 8 years)
Scalability and agility of the infrastructure allowing rapid extensions or reorganizations of logistics flows
Security of the data
It is therefore logical that the Lauak Group choice focused on the differentiating technology offered by Ineo-Sense.
A significant potential of expansion, a showcase to conquer France and the rest of the world.
At the end of this first phase of delivery, the solution will then be extended to Portugal, where the Lauak Group has a best-selling plant of more than 11,000 m², and potentially on its other seven sites.
This extension would allow the creation of a vast communication network between sites, which would complete the benefits provided by the features of indoor networks.
Indeed, the technology developed by Ineo-Sense also allows to provide traceability functions between plants thanks to the LoRa® platform, in addition to the functions offered for indoor location.
Olivier Guilbaud, President-Founder of Ineo-Sense, comments on this partnership: "I am proud of this contract with the Lauak Group which represents a unique reference in the IoT universe at the scale of an industrial site. Beyond the still significant potential with our partner, this commercial success constitutes a magnificent showcase for our company. This validation of our technology is a decisive competitive advantage as we move forward on more than 30 potential projects in France and internationally."
Mikel Charritton, Managing Director of Lauak Group, says: "We have always been keen to project our Group in the era of industry 4.0. In this perspective, the choice of a young French nugget like Ineo-Sense to accompany us in our IoT project has naturally found its meaning since we were able to measure the major benefits of its technology. Given the strength of this value proposition, we are convinced that this contract opens the doors to new collaborations together."
Cédric Lynam, Digital Transformation's manager for the Lauak Group, adds: "This concrete IoT project allows us to start digitising our processes and collecting data for the construction of our Data Lake. The BIG DATA will allow us to have decision support tools and even a predictive vision of our workflows in order to improve our operational performances."
About the Lauak Group:
A family business created in 1975, Lauak is now an international group, supplier of first and second tier of major aeronautical contractors such as Airbus, Embraer or Safran. It provides a complete offer: basic parts, sub-assemblies and aircraft sets, both in aerostructures and aeromotors. The Lauak Group also develops innovative solutions for its own needs as well as to meet those of its customers based on their specifications.
In full growth, the Lauak Group bases its development on an offensive strategy combining external growth and deployment of innovative technologies as sources of productivity gains.
About Ineo-Sense:
Ineo-Sense designs, develops and markets intelligent and autonomous sensors for the industry to fully exploit the potential of the Internet of Things. Its solutions make it possible to answer essential problems on the main industrial sectors (production, logistics…): asset tracking, security, data collection related to energy use. All of Ineo-Sense's solutions embrace the "Clover-Core" breakthrough technology which collects relevant data in real time, making it easier for companies to make decisions and improve their production processes.
A pioneer of IoT since its creation in 2010, Ineo-Sense benefits from a proven expertise with already 70,000 sensors successfully deployed in France and internationally.
The solutions developed by Ineo-Sense are based on its embedded technology platform for the realization of high added-value industrial connected objects, combined with recognized expertise around LPWAN low power and long-range radio networks.