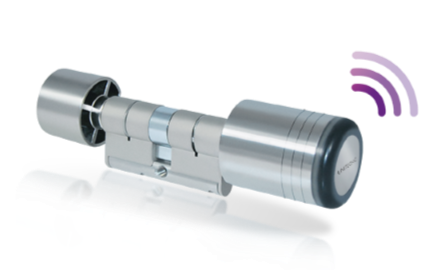 Innovative door lock managed by LoRa and Clover-Net.
Ineo-Sense would like to present a new product developed by UNITECNIC. This product is a cylinder electronic lock for access control. This product, the C900, integrates a LoRa communication brick relying on the Clover-Sense. The partnership work has made it possible to achieve a high level of mechanical and microelectronic integration in order to meet the technical problems of autonomy and low volume available. This electronic lock is installed without any modification of the door and adapts to almost all environments.
The C900 lock can be used indoors and outdoors (IP67), activated by RFID badges 13.65Mhz (MIFAIR, DESFIRE), with access rights that are distributed in real time through the Clover-Net network. The lock manages up to 2800 access credentials and more than 1000 history events.
This lock can be operated through the software suite designed by UNITECNIC to realize a complete system of access control. But it is also possible to use this electronic lock thanks to a PDK so that software integrators can use the C900 in their particular context.
UNITECNIC has chosen the Clover-Sense because it offers all the characteristics necessary to the requirements of this application, high level of integration, management of communication in private networks and full bidirectional LoRa, secure protocol, possible use of radio relay to increase the range of the Network on wide sites. Moreover, by integrating the Clover-net, the C900 benefits from all the functional services natively offered in our Framework: Automatic time synchronization, remote update, encryptions, multitasking and buffering of transmissions.